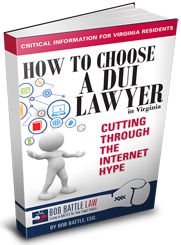 Before you speak to ANY lawyer about your case, get the free consumer guide, "How to Choose a DUI Lawyer in Virginia." Urgent: the clock is ticking!
From the moment you are charged with a DUI, the clock begins to tick.
If you want to try to get your license back, you have less than 5 days to hire a lawyer.
Your trial date is almost always less than 2 months from the date you were charged and, thus, waiting just 14 days to hire a lawyer could severely handicap your defense.
No state is faster at moving cases through the system than Virginia. The internet gives you the ability to quickly access a lot of information. The problem is: How do you separate the critical information from the hype and B.S.?
FREE Consumer Guide
Now, a free consumer guide from former prosecutor Bob Battle reveals the truth about lawyer website hype & B.S.! If you have a pending DUI, this controversial book gives you the critical information you need to choose the right lawyer. We guarantee this book will not waste your time. "How to Choose a DUI Lawyer in Virginia" arms you with the 10 questions you must ask to have the best chance of winning your case. Don't hire Bob Battle or ANY lawyer until you get straight answers to these questions, including:
Who is going to be my lawyer at trial? (p. 20)
What are his/her qualifications?
Are they AV rated? "AV" = Highest rating possible for
Legal Ability and Ethics
Are they a former prosecutor? Where did they prosecute? (p. 24)
In addition to the 10 questions you must ask of any lawyer, this guide also discusses how to avoid hiring a lawyer who is "asleep at the wheel" of your DUI case or is a "Dumptruck DUI Lawyer" who pleads every client guilty and the 20 mistakes lawyers make that lose winnable cases for their clients.
Author Bob Battle has received national publicity for his defense of several current and former pro athletes, elected officials, police officers and even other DUI lawyers. He is a former prosecutor and federal law clerk who has earned the highest ratings a lawyer can obtain for legal ability and ethics. He is also a frequent legal analyst on radio, TV and in newspapers.
Time is short. A DUI conviction has the potential to ruin your job, family, life, and freedom. Fill out the order form below to instantly receive your electronic copy of the consumer guide "How to Choose a DUI Lawyer in Virginia" delivered to you by email.